The last few years have been tough on businesses - the pandemic, material shortages, employees quiet quitting, and political turmoil. The hits just keep coming with a looming recession, inflation, and workforce reductions across core business divisions. The businesses that learn how to pivot and adapt quickly to customers evolving expectations will prevail. How will they do this? Here are the top five trends for B2B digital marketing in 2023.
#5 – Demand for Gen Marketing
59% of B2B buyers are Millennials (ages 26-40) and 6%, Gen Z (ages 18-25)1. These younger, tech-savvy customers focus on vendors that are quick to respond, easy to engage and provide flexibility. They are looking for their buying experience to parallel the B2C path and control on their own terms. As a result, digital marketing efforts should be made to diversify content and create best practices.
Diversify Content
B2B multi-channel marketing creates a well-rounded brand experience and customer connection. Don't fall into the trap of automating the same post to hit all your platforms, it's self-defeating. Each social platform has its own personality, language, and formatting. Audience members want to see distinct types of content on different mediums. What social platforms are your target audience using? If your brand has mastered one social platform, where's the next best place to be? Short-form video is expected to see the most growth and provide the highest ROI. You can take blog posts that performed well and repurpose them into videos. As you begin to experiment with different content types, it will become apparent where to invest more time and energy.
Create Best Practices
Don't keep doing things because "that's the way we've always done them." Build on processes you have by improving them. If you record a live training seminar, cut it up into snippets you can post on social media. You currently offer phone, email, website forms, and social media as means of contact. How about adding a chatbot or SMS/texting? Adding just one form of communication for this younger buying audience could have a significant impact.
Over 1 in 5 Gen Zers and nearly 25% of Millennials have contacted a brand on social media for customer service. [Source: https://blog.hubspot.com/marketing/hubspot-blog-marketing-industry-trends-report]
#4 – Using Data for Decision Making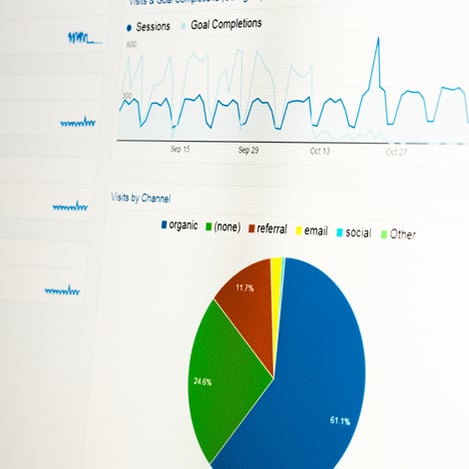 #3 – SEO 2.0
Remember when SEO was about using exact keywords and phrases to rank for a particular keyword? Times were much simpler back then. Thanks to Google's ever-changing algorithms, SEO has changed measurably in the last few years. Google now uses machine learning and AI as part of its ongoing mission for the search to think like a human. In turn, humans need to stop thinking like a machine. The algorithm has a better understanding of the content so you can rank for longer and more specific keyword phrases. For example, a B2B company that sells metal roofing panels has a very low chance of appearing at the top of an organic search for "metal panels." Add in some specific identifiers like, "standing seam metal roof panels for retrofitting" and customers looking for this exact product are going to find you. When you search a question like, "how do I find a roof leak," the results don't use the exact search term, but are clearly answering the question. Check out Google's Search Central Blog where they explain that content written for humans first and content that provides value to the user will yield the greatest results. It's time to refocus on creating unique and helpful content that serves your target market. Don't forget to optimize SEO for multiple mediums – searching by voice, image and text will need to be addressed.
#2 – Brand Trust
Not a new trend for 2023, it has been important the last couple of years, but continuing to gain importance in B2B marketing is to communicate and build trust through your brand.
30% of marketers are currently creating content that reflects their brand's values, making it the third most popular trend right now. It has the 5th biggest ROI of any trend and will see growth in 2023. 16% of marketers plan to leverage content that reflects their brand's values for the first time in 2023, and 89% of those already investing in it plan to increase or maintain their investment. [Source: https://blog.hubspot.com/marketing/hubspot-blog-marketing-industry-trends-report]
Content that Connects
Delivering original and thoughtful content to your target audience is a great way to build confidence and bring value. Focus on how you're different, new ideas for the industry, and how your business solution is good for them. Rather than selling a product/service, position the content around a particular point in the buyer's journey. Show empathy by letting them know you care about their problems.
Authenticity
We tend to work more with those we trust. Honesty and transparency play a major role here. Letting your audience see behind the curtain helps provide insight into your company culture, develop a personal connection, and feel more engaged. This includes exposure to those at the leadership level. The LinkedIn algorithm favors posts from personal profiles over business profiles. This is how you can organically grow your business community.
#1 – Content is Still King
It should come as no surprise that content is at the top of the list for digital marketing trends once again. It has been the common theme throughout this article which is why we chose to list them in reverse order. Whether it's a case study, blog, video, or social post, your content establishes your brand as an expert in your industry. It's your unique point of view and offer that is going to set you apart from the pack.
If you are thirsty for additional B2B content and love industry survey reports, this one is great:
Content Marketing Institute's 13th annual B2B Content Marketing; Benchmarks, Budgets, and Trends